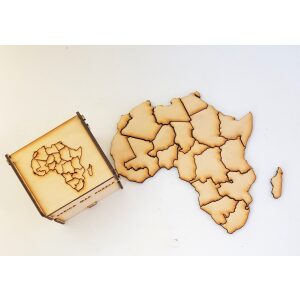 WHY THE MAP OF AFRICA PUZZLE?
The Map of Africa Puzzle was designed out of a love of geography, playing puzzles and the need to encourage better learning and understanding of the African continent in a creative and fun way.
Described as challenging yet fun, the Map of Africa Puzzle is a great learning tool helping to reinforce the message that Africa is a continent made up of 54 countries.
With a wealth of resources, tribes  and traditions, African countries span a range of terrains that we need to experience from afar and in person.
DEVELOPING THE PUZZLE
The 18 piece puzzle has no names and some of the 54 countries are merged. It has been specifically created this way to challenge you and to encourage you to get the maps out and learn as a family, team or group. 
With much demand for country names to be added to the map, the 49 piece version was created and has still proven to be challenging even with names on the pieces. This is because although we all may know a little bit about Africa and its countries, we have so much more more to learn about this vast and amazing continent!
New versions of the Map of Africa puzzle are currently being researched and designed so make sure you sign up to the newsletter to stay up to date!
ENVIRONMENTALLY FRIENDLY

Production of the Map of Africa puzzle has evolved from initially using acrylic to then trying out MDF and plywood. For each change in material there was a feeling that they could be produced with a more sustainable material. This is why all map puzzles are now made from recyclable Bamboo, an eco-friendly sustainable wood that is covered by the Forestry Stewardship Council scheme.
Disclaimer: All puzzles contain small pieces, which are unsuitable for children below the age of 3 and which will require adult supervision for children aged between 3-7. If unsure please put your child/ren's safety first and refrain from using the product with them.